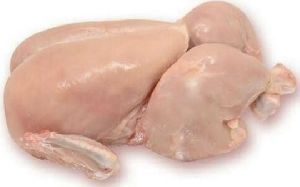 If you go and ask non-vegetarians you would be surprised to know how much they depend on eating chicken. Hardly anyone of you would disagree if we say that chicken is the most common type of poultry in this whole wide world. And not only that it tastes good (to those who eat it), there are a lot of health benefits and that's why chicken is so famous and so popular. Chicken is basically a healthy, lean-meat form, with a high nutritional value. Scroll down to know more about the health benefits of chicken.
1. Protein supply
It is a known fact that chicken is one of the best sources of protein. For the ones who don't know, chicken has very high protein content, and that is why it has a significant role to play in sustaining one's muscles. So all those who are reading this and want to build strength, go and eat chicken.
2. Weight-loss
Many of you might have noticed that a healthy plate of food always comes with some chicken. Correct us if we are wrong! To substantiate our point further, the reason behind the same is that it is a lean meat that doesn't have much of fat content. So, eating chicken regularly can actually help you lose weight in a healthy way.
3. Healthy bones
In addition to the aforementioned benefits of chicken, it also helps in giving you strong and healthy bones. Chicken products are rich in calcium and phosphorous and both of these minerals help in strengthening your bones. In addition to this, eating chicken on a regular basis also cuts the risk of arthritis.
4. Stress reliever
For the uninitiated ones, chicken products help in reducing stress levels. Do you know why? Chicken contains tryptophane and vitamin B5 that are great ingredients in order to reduce stress and chicken has a good dose of both of these. In addition to this, chicken is also full of magnesium, which relieves PMS symptoms. All-in-all, eating chicken can help you lead a life stress free.
5. Immunity boost
For this pointer, I would like to ask have you been asked to add chicken soup as a part of your recovery meals, whether you have a cold or flu? If your answer to this question is in affirmative then do you have any idea why is it so? Well, the reason behind the same is that ken helps bolster immune cells in the body, while the steam from the soup clears the nasal passages.
6. Protection from cancer
Yes, you read that exactly right! Chicken products help in protecting you from cancer. Chicken is rich in niacin, which happens to be a particular kind of Vitamin B that helps in safeguarding the body against cancer and other related complications.
All-in-all, one must include chicken products in their diet in order to live a happy and healthy life. There are many Chicken Products Exporters in India and Chicken Products Suppliers in Ahmedabad to give you an easy access to healthy and clean chicken products.